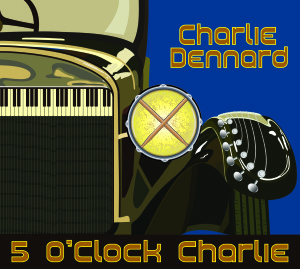 New Orleans based keyboardist Charlie Dennard announces the release of his superb jazz organ trio, 5 O'Clock Charlie. On this recording, Dennard showcases seven original compositions and three cover tunes that capture the simple, organic quality of musicians playing together in the moment. In the late 1990's, Charlie had a standing gig at New Orleans' famous Funky Butt with his band, then called 5 O'Clock Charlie.
Dennard is a master of the Hammond B3, using every nuance of its texture, tone, depth and feel, walking the bass to support the trio's rhythm and driving the melodies home with heart.
This project marks a return to his roots, just as Charlie has returned to New Orleans after touring the world for the past decade. The recording is groove-based, funky and fun.
International orders contact me
From Brazil to New Orleans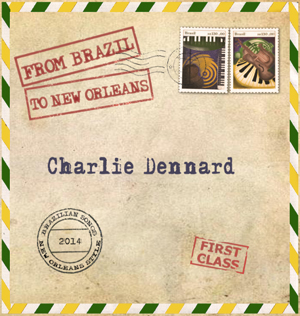 Charlie Dennard has arranged a collection of Brazilian songs for an eclectic band of New Orleans jazz musicians to create a unique sound — a blend of New Orleans and Brazilian jazz that defies category. New Orleans second-line rhythms mix with boogaloo. Vibrant brass band horns mix with Latin percussion. Mellifluous contemporary jazz piano mixes with cello. And ambient electronica mixes with an improvisational jazz quartet and an angelic, classic female Brazilian voice. The result is truly an album – a diverse set of Brazilian folk songs and contemporary Brazilian compositions crafted into a coherent whole thanks to Dennard's vision and a stellar group of players from the New Orleans jazz scene.
Although truly unique, the recording is hardly contrived. Dennard's arrangements and versatility on the keyboard give the album a natural and organic feel. "From Brazil to New Orleans" takes the listener on a journey that pays tribute to several lesser-known Brazilian composers and places them firmly on the map in multi-cultural New Orleans. The album underscores the Crescent City's essential character as an Afro-Caribbean port city. And the album does something exceedingly rare: It creates, in some cases, something akin to a new genre.
Dennard's goal, however, was much more humble.
"My main goal is to make beautiful music that feels good and is emotional," Dennard says. "To me, the music of Brazil and New Orleans have all of that and more, so it just seems logical for me to put them together in one big gumbo and 'stir the pot' so to speak…"